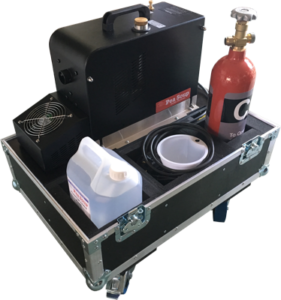 The Finest Haze

The Largest Output

The Longest Hang Time (3 – 4 hours +)

Cleanest and Healthiest Haze

Leaves NO RESIDUE

Virtually Silent Operation

Can produce smoke if required

Most efficient – 1 litre of fluid creates 40 + hours of haze

With a tiny haze particle size of just 0.2 micron (mass median diameter) this precision engineered hazer is truly in a class of its own, beating all competitor's systems hands-down. The persistency of the effect means that a single generator can replace a number of conventional hazer systems, producing a beautful even haze with an incredibly long hang time.
The whisper quiet fan is independently switched, and so the unit is equally capable of producing ultra smooth low output haze or large volume smoke effects if required.
Day Rate

£175

Week Rate

£350